NEW VIDEOS POSTED
---
January 15, 2015
The Lovely Renée Adams is the new 2015 Miss Footnight!
Huge congrats to Renée Adams, for being crowned 2015 Miss Footnight Model of the Year, last night at Footnight Internationals premier annual event; The 2015 Footnight Annual Foot Party & Awards Presentations!
Renée is a true Footnight "gem" who defines the perfect representative of Footnight International. Beautiful, loyal, committed, super friendly, intelligent, eloquent, warm, caring and of course, has sensational feet!
Renée is a multi-award winner, and last night, aside from winning the esteemed 2015 Miss Footnight title, also won the 2015 Most Loyal & Committed Model of the Year! Huge congrats to Renée! We know that she will represent Footnight International with exceptional honor and esteem!
2015 Footnight International Award Winners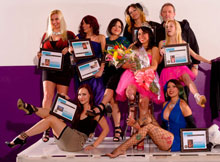 There were a huge number of votes from the Footnight fans, models, and the foot fetish community. Some categories produced very definite results, while most were extremely tight among the top 3 nominees.
There are several thousand Footnight Models and many Footnight Hosts and staffers; so just being nominated is a true honor. There were certainly no losers, but here are the winners of the various award categories:
2015 FNI Top Regional Venue Of The Year
Dragon's Gate Studio, Orange County, Ca
2015 FNI Regional Host Of The Year
Warren, Footnight Detroit
2015 FNI Staffer Of The Year
Russell Peter, Promotions & Production Coordinator
2015 FNI Power Promoter Of The Year
RavenRae
2015 FNI Most Loyal & Dedicated Model Of The Year
Renée Adams
2015 FNI Miss Congeniality
Wicked Wendy
2015 FNI Breakout Model Of The Year
Heather C
2015 FNI Rising Star
Eve Swan
2015 FNI Most Fascinating & Captivating Model
Justine Cross
2015 FNI Entertainer Of The Year (New Category)
SinFisted
2015 FNI Most Alluring Model Of The Year (New Category)
Jolene Hexx
2015 FNI Favorite New Model
Odette Delacroix
2015 FNI Most Photogenic Feet
Raven Rae
2015 FNI Sexiest Feet Of The Year
Felina Rae
2015 FNI Fan Favorite Of The Year
Lynn Pops
2015 FNI MVP Of The Year
Noir Halo

Thanks to all for attending and helping make this such a great, memorable night!
And a special thanks to Russell for his hard work in helping coordinate the event, and Mr T the Foot Whisperer for the great job he did as Emcee of the awards!
We look forward to seeing you all at the next Footnight!
---
2014 FNI Award Winners
Announced Jan 23, 2014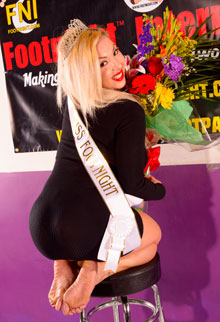 2014 Miss Footnight
AnnieMae
2014 Footnight MVP
Renee Adams & Russell Peter
2014 Fan Favorite
CeCe LaRue
2014 Breakout Model
Maroe
2014 Favorite New Model
Jericha Jem
2014 Sexiest Feet
Jolene Hexx
2014 Most Photogenic Feet
Ashley Soles
2014 Miss Congeniality
Joclyn Stone
2014 Most Loyal & Dedicated
CeCe LaRue
Noir Halo
2014 Most Fascinating & Captivating
SinFisted
Fae Black
2014 Power Promoter
Renee Adams & Russell Peter
2014 Footnight Staffer
Chef Patrick
2014 Footnight Venue
Club Joi Los Angeles
2014 Footnight Host
Jay Footnight Toronto
2014 Lifetime Achievement Award
Steve Savage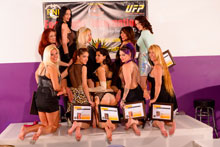 CLICK FOR PHOTOS
---
Mr T - The Foot Whisperer is back! Read his brand new, down to earth, unedited, honest "Toe Times" articles!
It's great to have you back with your family at Footnight brother!
Read On..
---
Copyright ©Footnight
---
Happy Holidays!
from Liquid Red Las Vegas
www.liquidredlv.com
FREE Entrance!
RSVP HERE

Liquid Red Las Vegas is a monthly fetish themed event in Las Vegas, Nevada that takes place at "The End" bar on 4621 Spring Mountain Road suite G (facing Decatur Rd.) Las Vegas. There are different themes for each month. FREE admission, fetish & costume attire is encouraged.
Visit www.liquidredlv.com for more information.
Enter a space where all of your dark fantasies come to life on stage and all around you. Indulge in delicious cocktails while taking in the scenery. The crowd will have an "eyes wide shut" type feel that you have seen in your fantasies. Sin City has a new night that you will be dying to get into.
Join the Facebook group for discussion
Web Site:
http://www.liquidredlv.com
---
Footnight in Las Vegas with Joclyn Stone!
She interviews:
Caroline Pierce - Tomiko -
Maria Gara - Lady Ice Queen on www.AdultFilmStarNetwork.com www.FootNight.com