If you missed the amazing Yoga Pants Footnight, don't fret... You still have the opportunity to come to one of our favorite footnights again!
FOOTNIGHT LAS VEGAS HALLOWEEN FOOTPARTY!
Trick or Treat Smell My Feet!
Halloween gore and sex appeal captivates Las Vegas during this time of year and adults will find that there is no greater place to celebrate the season than at Footnight in Sin City; where the treats are abundant and the tricks that happen in Vegas, stay in Vegas!
Mark your calendar for the hottest night of Frightening Feet & Fun!
FOOTNIGHT LAS VEGAS HALLOWEEN FOOTPARTY!

Trick or Treat Smell My Feet
WEDNESDAY, OCTOBER 30, 2019
8pm-12.00am
(7pm entrance for prepaid registrants)

---
Footnight™ Las Vegas is the foot guys night out where you can enjoy your favorite foot fantasy and leave your shyness at the door. It's also the only place where you'll find 10 out of 10 stunning models that love having their awesome feet worship by foot lovers like us.
---

Join us at one of our most fun and loved Footnights of all at our intimate, sexy private 7,000 sq.ft. Studio just minutes from the Strip!
2 levels of sexy theme rooms with tons of play space...
Free parking in street and in adjacent parking areas...
Huge decked out patio and outside play spots..
There is even a full dungeon in the basement area..
Spotlessly clean inside and out...
BYOB with soft drinks and mixers available at the bar..
Free snacks and food...
A night of friendship, non-stop foot worship and lifelong memories!
Safe, Private and Discreet
Register NOW To Secure Your Entry!
GET YOUR TICKET NOW BY CLICKING ON THE "RESERVE TICKETS" BUTTON BELOW
Deep Discounted Prepaid VIP Option
ONLY $55 FOR PREPAID ENTRANCE ($10 Discount!)
(Discounted admission ++PLUS++ 1 Hour Early Entrance Privilege)
7.30 pm - midnight

-OR-
Doorpay RSVP $65
(Doorpay RSVP - free registration, pay at the door)
8pm - midnight

-OR-
Exclusive VIP Experience!
ONLY 3 PRIVATE SUITE VIP TICKETS AVAILABLE
(Your own 100% Private Reserved Bedroom Suite for the entire duration of the party
PLUS 1.5 hours early entrance
7.00pm - midnight
It's Super Simple, Fast and Safe
You'll receive all of the private party details both online and by email as soon as you register.
PLEASE CLICK HERE to read Footnight's event terms and conditions before proceeding with your registration. By submitting your registration, you indicate your agreement to these terms and conditions. If you do not accept these terms and conditions, please do not proceed with registration

*You will receive full event and location details immediately upon registration.
*No refunds or transfers within 7 days of event.
---
If you need your "foot fix" and are in or near Vegas, here's a great opportunity for a toetally private, intimate foot worship experience that you'll never forget!

---
---
A Footnight for the Books at the May 29th Las Vegas Footnight™!
As promised, the May 29th Footnight did not disappoint! Our Vegas Footnight Friends came to support and enjoy.. and the Featured Models showed up and did not disappoint!
Guest flew in from out of State especially to have a live feet experience with the lovely Caroline Pierce, who came back after a long hiatus.. and She certainly did not disappoint!
Several gentlemen flew in for a live feet experience with the infamous Mikayla Miles and her superb, shapely size 16 feet, 2018 Miss Footnight Asia Perez (who BTW looked unbelievably hot last night), the sensational Amazon Amanda, the incredible Sinn Sage.. who absolutely did not disappoint!
And lots of regular and brand new Footnight Friends came to experience their own favorite Foot Models... and judging by their energy and the smiles on their faces all night, THEY were not disappointed!
The atmosphere was super fun, friendly and charged with excitement as long-time dreams were realized and fantasies were experienced in real life!
Thanks so much to all of the sensational women and the awesome guys for sharing such an important, personal part of your lives at Footnight. As hopefully you know by now after 17 years, Footnight has and always will appreciate you and do everything possible to give you the best live feet experiences of your life!
Thanks again and hope to see you at the next Footnight!

Warm regards,
Steve Savage, Founder/CEO
FN International (FNI)
FOOTNIGHT LAS VEGAS
NEWSLETTER
Don't miss out on important updates and notifications anymore!

Subscribe now and ensure that you NEVER miss out on important notifications or updates again!
YOUR PRIVACY AND ANONYMITY WILL ALWAYS BE 100% RESPECTED AND PROTECTED!
---
Testimonials
 
Hi Steve
I attended my first foot night party on January 28, 2010 in Las Vegas. It was awesome. The staff was very friendly and helpful. The girls were all beautiful and friendly without being pushy. There were all sizes and shaped ladies from their 20's to 40's, short,tall,blondes ,brunettes, and redheads. The rooms were clean and private for the shy guys. I did a session on the couch. It was an awesome night. I got there late so I only had the chance to have a few sessions. There was Kat who is so cute. She does the pictures that are used on the web site. She does a very good job, and that's from a professional photography. Then I had a session with blonde named Nacy and a stunning brunette named Kelly, it was her first party also. Then the highlight of my night "Nadia". She was stunning. She is a very beautiful and exotic young lady with cat's eye. She is petit and firm with the prettiest and smooth feet I have ever massaged. She was a real treat. I will recommend these parties to all men and women that have a foot fetish. I will be there again next month and the month after that and the month after that!
Thanks again.
Mike B
Hello Steve,
I just wanted to express my gratitude for hosting another very successful Las Vegas FN party last night. It was a blast. My evening was absorbed by trampling, foot worship, foot smothering, and many other fun filled foot activities with beautiful foot girls. An extra special thank you must go out to Cherry, Snake Babe, Caroline Pierce, Melody as they put forth the extra effort to really maximized my foot pleasure experience. It will definetely be a party to remember.

Thank you.
Sir Tramplelot


Hi Steve,
This is Robert, I want to say thank you so much. You're my hero lol. Thank you for having me at Footnight. You made me feel at home. One of the reasons I decided to finally attend your party was because I've always had a foot fetish and some people just aren't into it so you tend to hesitate when it comes to people asking what do you like to do for fun. Some people think it's weird or disgusting or that you're some type of pervert, so to avoid being viewed as odd I don't really reveal that side of me and it was finally so cool to go to a place where you are around people of the same interest. I like the intimacy of the location for the party where the girls can remember who you are. Speaking of girls, your girls last night were totally amazing, Vanessa blew me away! she knows how to work those legs and feet on a man's face. Shelly was awesome, had the perfect body to me for a woman 5 foot 10 and perfect size 10 feet that I could never get tired of. I hope to see her again, I looked for her later but she had already left. I forgot the name of the mother of one of the daughters that was there but she was cool, I like her, it was her first time as well and my first session, so I felt a little at ease knowing that both of us were new to the party, and I finally took your advice and took Lana for a session in fact we had 2 sessions,.She was my last session when the party was over and you had left before I could thank you. Lana was hot and a fun girl, I can't wait to see them all again next month, they all made my longtime dream come true and I will always be grateful to them for that. I look forward to next month to see the girls again and I know I'm more comfortable because I know what to expect. Thanks again Steve for bringing my fantasy to reality and being so helpful. I wish you nothing but the best and forward to the next time
Thanks,
Robert
Steve,
Just wanted to send a message of appreciation for a great party @ Footnight "Feet Heat" in Las Vegas. The girls were all looking so good, I had the time of my life. I'm always impressed with the high caliber of ladies that you bring to these parties. Though we have the same amazing girls that are the Vegas party regulars, you always seem to find a new pool of beautiful ladies that are gorgeous and love to partake in foot fun activities. I explored every foot fantasy that could be experienced at an FNI Party, and this party has raised the bar as the best party experience I have ever had. I got to indulge in trampling, smothering, foot worship, double trampling, fantasy wrestling (the best), smothering while being trampled, and more. Like I said, a true foot fantasy experience. Special thanks to the ladies that made my experience so special, Miss Tiffany, Kitty, Shelly, Silver, Brandi, and Ashley. There were other ladies that deserve my appreciation, but I didn't have enough time in the evening to indulge in private time with them. Your staff had to literally tell me the party was over, because I didn't want the party to end. This will definetely be a night to remember.
People need to know that their foot fantasy and dreams can come true at your parties, because you have girls for everybody. I wanted to mention last night that there was a time when I felt I was not at a foot fetish party at all. There was a group of average "girl next door" blonds with hot tans wearing just their shorts, shirts, and flip flops. You could have pulled these hotties off the street. From normal everyday girls to hard core fetish girls, you have them all...and they are all hot and want to please the guys. Since we know each other, I can share that if I had Kitty, Miss Tiffany, and Ashley at every party, I would be in hog's heavan. Ashley was the icing on the cake, because she was willing to try everything...within the rules, of course. I'm still on cloud nine.
In regards to the guys...as you know, Vegas is made up of people who are very busy, or low on money because they aren't busy working. Both reasons could have people waiting to the last minute to see if they can make it. It's not fair to you as a planner, but the recession has everyone second guessing themselves about what they want to spend their money on. Unfortunately, I'm no exception...if I'm not working, I'm at your party, period.
Thanks for hosting such a great party.
Thank you,
Sir Tramplelot


Hello, Steve,

Just wanted to give thanks to you and your staff for making last night another memorable night for me. Thanks to all the ladies. They were all stunning and very friendly. Extra thanks to the ladies that dressed up for Halloween, they went the extra mile by dressing up. Also who was the ticklish model last night?? I didn't get to see her but her laughter was great. Whoever the customer was that was into tickling, you can tell he got his money worth :) hearing her laughter made it that much more fun being there. With this being a rough time with the economy and all , it was great to go somewhere and getaway for a few hours. I thought that was especially gracious of you to cut the admission price for everyone when everybody else is raising prices on everything. Thanks again for that and providing the environment to make our footfetish dreams.... a reality!

Robert M.
---
---
Join us at the sensual, luxurious new venue for an unforgettable night of foot worship and indulgence. Your fantasy is your reality!

Footnight™ "5-4-2™" MINI FOOT-FIX SESSIONS" IN ADDITION TO OUR CUSTOMARY $20/10MIN SESSIONS!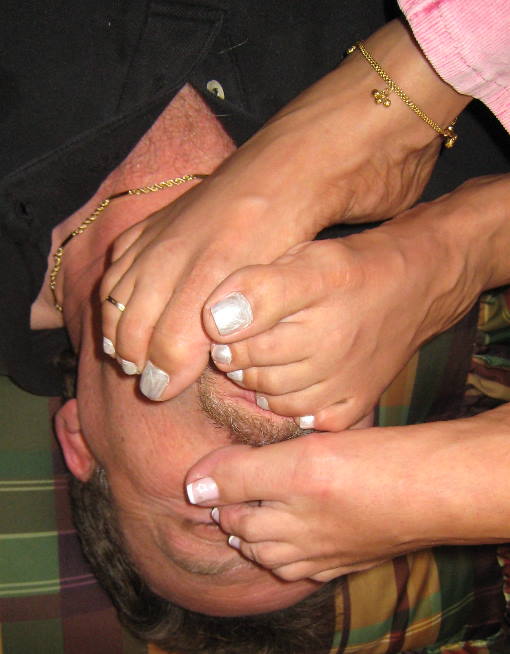 NOW YOU HAVE TWO SESSION OPTIONS!
1. Customary 20/10min session
$20 per 10 minutes of glorious foot indulgence!
2. "5-4-2™" Mini Foot-Fix Sessions"!
Short Of Money? Can't Afford To Enjoy Multiple Girl's Feet At $20/10mins? Or do you just want a quick sample sniff, touch or trampling by several girls feet? How's about $5 for 2 mins of Foot fun!
Footnight™ Now Introduces Our "5-4-2™" Mini Foot-Fix Sessions"($5 for 2 mins)

Now *EVERYONE* Can Easily Afford To Come To Footnight™ and Experience Unforgettable Foot Dreams & Fantasies At The Premiere #1 Foot Party Scene On The Globe!
Now *EVERYONE* Who Loves Feet Has The Opportunity To Experience Footnight™ - The Pioneer Of Foot Worship Parties!
© Footnight.com 2002 -Present. All Rights Reserved.
This website is intended for solely for adults of 18 years of age or above.