FOOTNIGHT | LONG BEACH
"LB / LA Harbor Area" Nautical FOOT-Fetish PARTY

Join us for our FootNight-Long Beach Nautical Foot-Party on Saturday, April 7, 2018 from 12.00pm - 6.00pm


http://33.worldmodern.com/events/15855/orders/new
Join us for our FootNight-Long Beach Nautical Foot-Party on April 7th
The hottest fantasy foot girls are all coming together for you to worship and
enjoy their beautiful and sexy feet on a ship in the LB / LA harbor
This is the party where all foot fetish fantasies will come true in a very unique setting!
Stay tuned for this Saturday afternoon of feet and LIVE Foot Indulgence at sea...
Only the best of the best Live-Action MODELS will be hand-picked for this special FN regional party! The hottest handpicked ladies will be selected for you to worship and enjoy their beautiful and sexy feet.
INITIAL CONFIRMED FEATURED MODELS FOR APRIL 7, 2018 FOOTNIGHT-Long Beach, ca
1. Asia Perez (Miss FootNight-2018)
- instagram: @AsiaPerez

2.Renée Adams (Miss FootNight-2015)
- instagram: @ReneeAdamsXXX

3. CheerLeader Sarah (visiting from FN-Las Vegas)

4. Nina Hemingway
- instagram: @NinaHemingway

5. Dylan Rose
- instagram: @Miss.Pretty.Long.Toes

6. Katarina - instagram:
- Mistress_Katarina

7. Selena Seti
- instagram: @DominaSelena

8. Kitty Kissin (2016 Power Promoter FNI-Award Recipient)
- instagram: @Kitty.Kissin

9. Nicole Dyles

10. Nikki G

11. Nichole Daylinn
- instagram: @Nicholes_DeliciousFeet

12. Alexis (Brand New FNI Model)

+PLUS MORE LIVE-ACTION MODELS TO BE CONFIRMED!
Come join us for a fun Friday afternoon of non-stop foot worship, indulgence and pampering while making lifelong memories at sea!


---
Because the party will be on a ship, we'll only be able to offer no more than 20 online pre-paid tickets, no door-pay RSVP's will be available for this party.
The reason only pre-pays will be allowed on board the ship is because we as the organizers, including the owners of the ship, the captain, 1st mate and staff must comply with Maritime / U.S. Admiralty law and in order to be fully compliant we need to provide an accurate manifest (with real names not AKA's) to the US Coast Guard that complies with the maximum limit of passengers allowed on the commercial vessel we will be partying on. If you CAN NOT provide your real first and last name for what ever reason please don't bother purchasing a ticket to attend this event because we are not allowed to board any person onto a commercial vessel that can not divulge their true identity.
Due to the maritime rules, we will only have a limited number of passengers and staff that will also be part of the ships manifest that will be filed with the US Coast Guard base at the harbor near where the ship is docked.
We will start the pre-paid tickets at $50 for 3 weeks,
and then increase to $55 for 2 weeks
and then $60 for 1 week
and end it at $65 til the day of the party.

http://33.worldmodern.com/events/15855/orders/new
---
Join us as we make history with the re-opening of FootNight-Long Beach at sea!
We will start signing folks in on the dock at 11am and the ship will set sail a bit after 12pm so please arrive as close to 11am as possible so that you don't miss the boat.
Come hungry, we'll have complimentary food, and beverages. This party is BYOB but all booze and beverages will have to be checked in at the bar / kitchen in the ship's galley and will be served upon request throughout the party.
The boat has a galley for chow that passengers and crew may eat / drink and just past the galley below deck are the sleeping berths that will serve as the session play spaces; many of which have built-in privacy curtains.
We look forward to re-launching our FootNight-Long Beach regional foot-fetish parties and hope that you are able to join us and set-sail for the ultimate foot-fetish adventure at sea.
SPACES ARE VERY LIMITED; don't miss out, Secure your spot NOW!


http://33.worldmodern.com/events/15855/orders/new

* Please Note: No refunds or transfers unless event is cancelled.
All pre-paid guests, staff and live-action models will receive the event confirmation(s) via email a few days before the party. There will be more detailed instructions concerning boat safety and other rules and US Coast Guard / maritime regulations that will be included in the confirmation(s)... READ THEM CAREFULLY so that we all remain safe and in full legal compliance.
In case anybody needs to arrange hotels, etc ahead of time please use the zip code 90731 when mapping out the area.
---
PHOTOS FROM THE SEPT 5TH LONG BEACH FOOTNIGHT


The Footnight Long Beach party is held in a newly renovated 1920's art deco / speak easy themed venue located at a historic, formerly top-secret U.S. Govt. designated building in Long Beach, ca that offers a very cozy, & intimate setting for you to enjoy the VERY BEST in Foot Fetish fun.
Hello everybody. It's Renée Adams.

As many of you already know, FootNight International last fall approved my formal request to run a few FootNight regions. This last Saturday (May 3, 2014) we had our very first FootNight Long Beach, ca foot-party debut. The party went very well considering that it was a super difficult undertaking that presented many time consuming & expensive obstacles from the start. Luckily we were able to have an awesome FootNight Long Beach event regardless of the difficulties thanks to all of our staff that went above & beyond.

I need to publically thank FootNight models Felina Rae, Stephanie Orchid, & our 2014 Miss FootNight Annie Mae for volunteering to help clean / setup the venue days before the event. Thank you to everybody who volunteered to me clean up our massive Long Beach FNI venue after our first event, I didn't ask and you certainly didn't have to do anything but it was greatly appreciated! Also thanks to our valet Walter for keeping a watchful eye on our vehicles, & our Bartender Ian for keeping the drinks flowing & to Chef Patrick for the food.

Thank you to my bad-ass business partner Russell Peter for finding us the venue, working out the business end of the deal, bypassing the pesky commercial real-estate broker and working out the deal directly with the actual owner from Israel. He also worked out all of the legalities, compliance, and dealing with the alcohol license. He also took on the responsibility of getting all of the venue's furniture in place days in advance; in addition, to taking on the responsibilities of the FN-LB social media campaign. Without Russell, FN-LB might not have been possible.

Thank you to all of the guests & models that showed up despite the uncomfortable heat-wave.

Thank you to our President Steve Savage for the awesome opportunity to bring FootNight to Long Beach, ca –It's been a real honor to be a part of the global authority in Foot-Fetish events.

Please continue to visit FootNight.com for the latest information on our future FNI sanctioned events.

Regards,

-Renée Adams | FootNight –Long Beach, ca Regional Host


Stephanie Orchid & CeCe LaRue ran around in the huge parking structure and got their feet filthy! Of course a lucky Footfriend got the special privilege of licking their feet spotlessly clean!


Lovely Jill London and Squeek remove their shoes to rest their feet on for a lucky face!


Latina foot feast with Footnight Long Beach Host Renee Adams & Felina Rae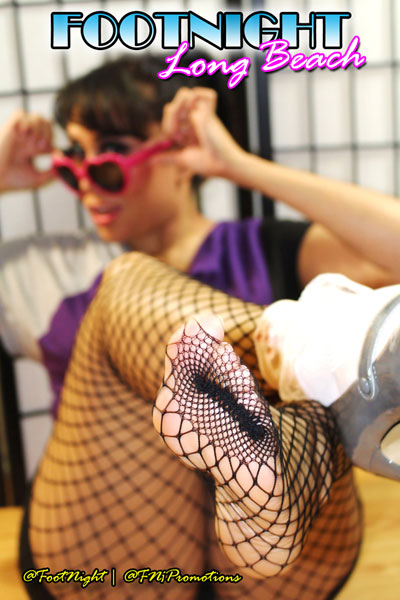 Join us at our next Long Beach Footnight with your favorite FootNight models, enjoying the best in Foot-Fetish fun!

Satisfy your appetite with a buffet of Feet & Food !

---
All original material on this website is Copyright © 2002 - 2015 FootNight.com. All rights reserved.
Unauthorized copying, distribution, reproduction, or any other use is a violation of applicable laws.
Violators will be prosecuted to the fullest extent of the law.
We hope to see you at FootNight-Long Beach's next foot party.
If you have any questions email us directly at: FootNightLB@outlook.com