November 2006 Footnotes

Obsession of the Month: Smothering
Of all the things you can do to experience a woman's feet,
smothering is one activity that gives you the full effect.
Some prefer lifting up a woman's soles and rubbing them
on their face, allowing the feet to envelop them from ear to ear.
Others prefer the more challenging version, face standing,
in which the woman literally stands with her full weight on
their face, using her feet to press down hard. Either way,
it's an intoxicating dose of the fragrance and feel of feet,
as up-close and real as you can get.
---

Nightclub feet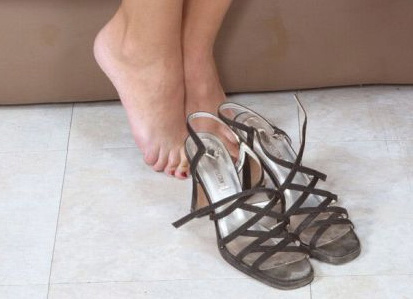 In the past couple of years there's been a trend of big-city
nightclubs that feature a number of actual beds or low
cushions in the middle of the club, so patrons can kick
back and relax (or chat up potential bedmates).
Because these clubs don't want the mattresses or cushions
getting dirty or ripped, many of them ask patrons to remove
their shoes before hopping on. And you know what that means:
lots of attractive barefoot women, exposing their soles for all to see.
During the downtime between foot parties, it's almost worth
braving the high cover charge and astronomical drink prices
at these clubs to get some good glimpses, and maybe offer
a foot massage or two.
---

Help-wanted ads we'd like to see
~ Staff reflexologist at Victoria's Secret fashion shows.
~ Traveling pedicure technician for Angelina Jolie.
~ Shoe salesperson; store located next to Dallas Cowboys
cheerleader training facility.
~ Stocking fitter,
~ Playboy photography department.
---
Fantasy foot adornment
The holidays are coming…
Here's another great gift idea for the foot girl in your life.
This beautiful crystal "footlace" will make her feet look even
more sexy and glamorous. It's sold on a bridal website,
but you don't need to be getting married to her to enjoy
it as she slips this on.
Also available in pearls or rhinestones.
http://www.bridalpeople.com/foot-jewelry-anklets/4003.asp