October 2006 Footnotes
Ludacris: the hip-hop foot fanatic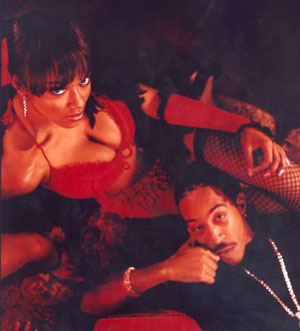 Add hip-hop star and actor Ludacris to the club of dedicated foot guys. "I definitely love girls with beautiful feet," he said in an interview a couple of years ago. "I have a foot fetish. Sometimes [a woman] can trick me, and just wear boots and not even show her feet. But when I see the feet, it's a wrap." With a guy who raps lyrics like, "I wanna lick you from your head to your toes," would you expect anything less?
---
Obsession of the Month: The Shoe Dangle
Few things are sexier than watching a beautiful woman with her legs crossed, dangling one of her shoes as she sits. We love it as she flexes her foot, balancing the shoe on the ball of the foot before slipping back into it. For a lot of us, our foot fetish actually started in high school or junior high, watching girls dangle their shoes in the classroom, and its power over us remains strong. A woman might be doing it absent-mindedly as she reads a book or eats her lunch. But subconsciously, we get the feeling that she knows exactly what she's doing. She knows there are guys like us out there-guys who get off on watching it. It's her own little private show, just for us. Thanks, ladies, for making our day.


---
Practice your skills: foot massage
Here's one skill that's absolutely essential for foot guys: Learn how to give a good foot massage. It will go a long way with your favorite foot girl. Get a bottle of lightly scented massage oil. Spread a little on her feet and your hands, and get to work. With your thumbs on the top side of the foot, start by stroking from the toes to her ankles, then back again. Then do the same thing, only with your thumbs pressing into the soles. After a bit of that, move to the toes: pull on them from bottom to top, squeezing and rotating each one. Press your thumbs right below the ball of the foot. Rub firmly around the arch area. Then do it all again. Works every time!


---
Get her a treat for her toes
Want to get your favorite foot girl a special gift? A company called DuWop has come out with a line of nail polish designed specifically for toes. They've got a line of colors named after different women's shoes, from Stiletto, to Strappy Sandal, to Wedge. And the polish contains tea-tree oil, a natural agent that helps keep those toes clean. So the next time you suck on those luscious toes, they'll be painted just the way you like it. You can order your gift online at Beauty.com here.
---
Got any interesting foot fetish news or comments? Share it with your foot friends! Contact us here.