September 2006 Footnotes
A foot girl we love: Jenny McCarthy
<![if !supportEmptyParas]>
We love it when a beautiful female celebrity admits that she's proud of her feet. And few are prouder than blonde bombshell Jenny McCarthy. Several sources have confirmed that she's into her feet big-time: She enjoys showing them off to guys, and having them played with. There's a famous clip of her on her old MTV show "Singled Out," with an extreme close-up of her wiggling her bare feet for the camera. She was the spokesmodel for Candies shoes, where she was photographed naked except for the shoes. Jenny, keep showing them off… and you're invited to Footnight anytime!
Obsession of the Month: Toe Rings
<![if !supportEmptyParas]>
Some guys like a girl's feet to be completely pure and naked. Others love toe jewelry. It's easy to see why. There's something about that gleaming little band wrapped around her toe that drives us wild. Maybe it's because the light that sparkles off a toe ring almost dares you to stare at her sexy feet. If you're in a session with a girl at a Footnight party and she's wearing a toe ring, it's hard to resist the temptation to vacuum the ring right into your mouth as you're sucking her toes. And here's the best part: Unlike the custom with a woman's ring finger, if you spot a ring on her left foot, it doesn't necessarily mean she's married.
Eat feet, a candy treat
<![if !supportEmptyParas]>
We've always known that feet are the sweetest treat around. Now there's a company that takes that thought literally. ToeFood.com serves up a variety of foot-shaped candies for all your fetish sweet-tooth needs. You'll find milk chocolate feet, gummy feet, lollipop feet, you name it. If you decide to buy any of these treats for your favorite foot girl, the site even has a helpful list of corny foot-related sayings that you can use on a card ("You're my sole-mate!") Check it out at www.toefood.com.
Stretching feet
<![if !supportEmptyParas]>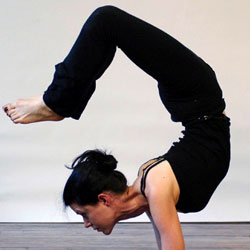 Looking for a great way to get your feet fix in between Footnight parties? Take a yoga class. True, it's not as manly as boxing class, but where else are you going to be in a room of 20 or so mostly attractive, toned women who thrust and wave their bare feet in every direction? You don't need to know what you're doing—the instructors welcome beginners on a regular basis. Just try to follow along as best you can. In the meantime, the odds are you'll be inches away from the woman in front of you, her toes pointed directly at your face. Foot lovers, this is your moment of zen.


Got any interesting foot fetish news or comments? Share it with your foot friends! Contact us here.