August 2006 Footnotes
Girls, Girls, Girls' Feet


< We understand, Tommy… we understand.
Now it can be told: Motley Crue rocker Tommy Lee probably chose his ex-wife Pamela Anderson for her amazing pair of… feet. Yes, it's true. In an interview with GQ magazine earlier this year, the tattooed wild man admitted that he's always had a raging foot fetish: " You'd think the first thing I'd look at on a woman is the breasts or the face. But I go right for the feet. I like to do everything with them." He goes on to say that feet are "the first thing I look at on a girl when she walks in the room. She could be Miss America, but if her toes are busted..." Rock on, Tommy—and thanks for revealing that you're one of us!
---
Toe-rantino


< Quentin Tarantino gets a mouthful of Salma Hayek's toes in From Dusk Til Dawn
Meanwhile, one of the worst-kept secrets in Hollywood is that director Quentin Tarantino also has a major thing for feet. He's managed to get long close-ups of hot women's feet in almost every one of his movies, from Uma Thurman's sweet peds in Pulp Fiction and Kill Bill Vol. I, to Bridget Fonda's toe-ringed treats in Jackie Brown.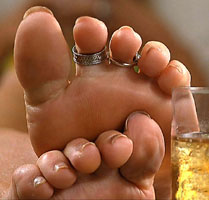 < Bridget Fonda's ultra close-up in Jackie Brown

As an actor, the T-Man was filmed gulping down the luscious toes of Salma Hayek in From Dusk Til Dawn. More recently, when he was a guest on Tyra Banks' talk show, he was asked to judge a "foot beauty contest." (Watch the video here.) Let's give the man his due—he's pushing our thing out into the mainstream, and he's making damn good movies at the same time!
---
Obsession of the Month: Stripper Shoes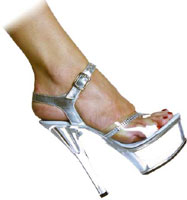 Any guy—even those without a foot fetish—who's ever been in a strip club instinctively knows the term "stripper shoes." Almost every single dancer wears those classic, insanely high platforms. You know the ones we're talking about: the 6-inch (minimum) spike heel, the clear plastic platform and the clear top. We love it.

For foot guys, it doesn't matter if the joint is topless or all-nude: These shoes alone are worth the price of admission. We sit there enthralled, wondering just how in hell these girls actually dance in these things, let alone twirl around poles. Ladies, we salute you.
---
We'll Have the Tall Double Mocha Toes, Please


In our endless search for public places in which to gaze at beautiful female feet, we've come to appreciate Starbucks. That's right, the coffee shacks on every corner in every town. When the weather is warm enough, you'll spot gorgeous women clad in skimpy sandals and open-toed shoes, sipping their low-fat lattes. Because there are always lines to order a drink, and lines for the bathroom, there's ample time for you to get good, long looks at prized peds. And the girls sitting at tables are usually preoccupied by reading materials, so grab a good spot and enjoy.
---
Got any interesting foot fetish news or comments? Share it with your foot friends! Contact us here.
---